Help for the Elderly Parents
Senior citizens require more general care than younger individuals with their day to day lives, so it is important to provide them with services and programs that can give them the help they so desperately need. The majority of these services are given to them through assisted living communities, or living communities in general, and adult day services or day care. The services these elderly care facilities tend to offer include emergency services, personal hygiene assistance, nutritional education, well balanced meals, medical care, and disability assistance to name a few of the most important services. This is not an exhaustive list by any means, but it does include some of the more crucial services and ways to obtain them based on what you or your loved one requires.
Assisted Living Communities: Assisted living communities and other types of elderly community living in general provide senior citizens with plenty of services and resources such as health care, meals, security, and personal hygiene help. Assisted living provides seniors with meals that are nutritious and sometimes they can even teach their residents how to opt for more nutritious meals when they have the chance. Since the vast majority of the residents in assisted living cannot cook for themselves, providing them with meals is extremely important. Senior living communities provide their residents with meals that are prepared specifically for senior citizens including food with lower amounts of sodium and higher levels of essential vitamins and minerals. It is essential for seniors to eat a well balanced diet that consists of dairy, grains, vegetables, fruits, and lean meats that provide protein or meat alternatives that have a comparable amount of protein and not have many foods or beverages that are high in sugar and empty calories. Since it is harder to cook healthy meals for yourself as you age and to cook in general, providing meals is such a crucial service for senior citizens.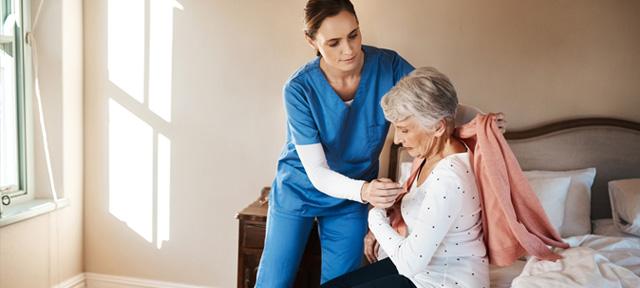 Many senior citizens who choose to live in assisted living communities require extra help with day to day activities due to advanced age or disabilities, such as cleaning or dressing themselves as well as getting around their living spaces. The nurses and employees of assisted living communities help their residents use the restroom, bathe, and groom themselves. Having this type of care and assistance, especially when it comes to health and personal hygiene care, is crucial for the elderly and is a big draw for senior citizens to live in assisted living communities with a nursing staff on deck instead of in retirement homes where residents receive less individualized attention. Some of the health services that seniors receive in assisted living communities includes blood pressure and sugar management as well as catheter placement, for example. The staff at living communities also help residents with taking their medication since many forget what to take or when to take their medication. Additionally, since many senior citizens cannot climb stairs due to disabilities it is very helpful that in the vast majority of assisted living communities, they are single floored spaces. Other disability services include memory care and specialized care for individuals with learning disabilities, as well as whatever Medicaid or state health insurance assistance programs offer for senior citizens. The bathrooms of senior living communities have easy access showers with grab bars and some are specifically fashioned for individuals in wheelchairs. Grab bars tend to be in all hallways at senior living facilities so the residents have something to hold onto for support. Since many residents cannot care for themselves, senior living communities provide housekeeping services such as laundry and room cleaning as well as general maintenance for the facility as a whole.
In addition, assisted living communities provide senior citizens with around the clock care which they might not otherwise have access to if they were to live alone in their own home or even if they lived with other family members. This is a vital resource in case there is an emergency, that way the 24 hour staff can help a distressed resident in a moment rather than having to wait for emergency personnel to arrive or not even being able to call for help if you lived by yourself. There are different levels of care that are provided at living communities with low levels being for residents who do not require much assistance in general, like people who can bathe themselves but do need help maintaining their blood sugar levels via a balanced diet or insulin injections. The second type of care are higher levels of care which are for senior citizens who need much more assistance such as individuals with low mobility levels and even minor memory loss. The last type of care level is for intensive memory care, these individuals suffer from more advanced Alzheimer's and dementia and their caregivers are specifically trained to help people with these deficiencies. There are also end of life care facilities that provide senior citizens with hospice care to keep them comfortable in their end of days if they are suffering from a disease that can no longer be treated or controlled, but this is only necessary in those situations. Living communities usually have more than one type of level of care available to their residents, but it is important to find a place that can assist you or your loved one in the most appropriate manner for their needs now and in the future. However, whichever level of care you do require and choose all living communities do have staff there to assist in case of a medical or other sort of emergency.
Living communities have different activities for their residents based on their abilities such as painting courses or low impact exercise programs, both of which are great ways to keep seniors active physically and/or mentally. There are also many different types of living communities that seniors have available to them if they do not require a lot of assistance, such as active living communities or independent living communities, which are more commonly known as retirement homes. In independent living communities, the average resident does not require the assistance that is provided in assisted living sites and therefore there is less medical care provided and fewer nurses on staff. Since the majority of residents are more mobile, independent living communities tend to have more active facilities like swimming pools or clubs and they also might have laundry facilities. They do still provide services to their residents such as meals and emergency response, but the staff is not required nor expected to have to assist residents with bathing themselves for example. Active adult communities tend to offer the least in terms of services since their residents are usually around 55 years of age or slightly older and require far less assistance than elderly individuals, but they do offer many active clubs and programs like golfing or yoga since they are easier on your joints but still keep you active and moving. Some communities of all types have special events and social activities every so often for the whole building, which is a great way to meet new people and socialize in a safe manner. Sometimes they offer special events like holiday piano concerts for their residents that are put on by local musicians, movie nights, family days, senior proms or bingo tournaments to get residents to interact with each other and to maintain a sense of normalcy.
Adult Day Services: Adult day services, or day care, is a way for senior citizens to be watched over during the day by trained professionals when their family members might not be able to or even just for seniors who live alone but want to interact with people in their age group in a structured way. Many of the services that adult day services provide for their senior citizen members include meals and snacks, personal care such as help with using the restroom or feeding assistance, medical assistance like monitoring blood pressure and taking medication, and special social activities and programs like bingo nights or group puzzles. They provide meals that are healthy and give senior citizens the nutrients that their bodies need like plenty of protein and dairy and dishes with low carbohydrate content.
There tend to be three main types of adult day services. The three kinds are social day services, providing meals, social interaction, and very basic medical care for seniors; medical day services, providing some social activities but more sophisticated health care; and specialized day services, for seniors with specific needs like dementia and general memory care or other disabilities like autism or Parkinson's disease. The caregivers at specialized day services are trained to properly care for and assist these individuals, with the majority of the caregivers having nursing degrees. Making sure senior citizens have enough social interaction is crucial to mental health and can reduce levels of depression since there is a release of dopamine, a neurotransmitter. Studies have shown that the dopamine release from social interactions can slow the process of memory loss and has even been shown to improve your range of mobility. In addition to social interaction activities, some of these activities include classes like painting or learning how to knit different items. Picking up new skills that require intense learning and long-term memory, like learning musical scales and how to play a new instrument, is one of the greatest ways to improve your overall cognitive abilities. Long-term learning can also reduce your risk of developing dementia or at least slow the process, it improves your neural synapses, and can slow cognitive aging in general.
These day services are typically only available to senior citizens who truly require the assistance and services that are provided, and different states have different ways of determining who is eligible. Some states require a doctor to recommend you for day services while others have simple surveys that need to be filled out to determine eligibility. Usually, the majority of seniors in adult day services suffer from dementia and require care during the day so they are not alone. In addition to these services, some adult day cares provide transportation for their members to and from home in case their family members are unable to pick them up. Most adult day services are only offered during the week for specific hours, usually work hours, but some do offer after hour and/or weekend care with limited hours. It might be difficult to locate adult day services without assistance, so you can use eldercare locators that many different websites offer. The U.S. Administration on Aging has their own eldercare locator, and probably the most detailed, that can help you find a plethora of services in your area that are designed specifically for senior citizens.
Overall, finding yourself or a loved one the services that he or she requires is an important step of aging. If you are still independent enough to not require the assistance given in assisted living communities but would still like to interact with individuals in your age group, finding day services might be the best for social interaction if you are eligible or finding a home in an active or independent living community. In addition, you should think about what services you will require in the coming months or years to properly prepare so you do not have to move multiple times since adjusting to change can be difficult with age. Not only are the services important to take into consideration, but once you have determined what you need you should then focus on finding a community that provides you with the types of programs you would want such as yoga or day trip excursions as a group. Finding what is best for you and your needs does not need to be difficult as long as you know what you want or need and have access to the eldercare locator that the U.S. Administration on Aging has.
https://www.helpguide.org/articles/senior-housing/independent-living-for-seniors.htm
https://www.arborcompany.com/blog/whats-the-difference-with-levels-of-care-in-assisted-living
https://www.nadsa.org/learn-more/about-adult-day-services/
https://www.sciencedaily.com/releases/2016/02/160211144057.htm
https://www.agingcare.com/lp/homecare?HL=Elder%20Care&campaignid=1617188144&affiliateid=C2B76E5B-BB2D-4F62-B5F2-60F00A57E756&opt=true&gclid=CjwKCAjw9MuCBhBUEiwAbDZ-7myZy1nGzaakO94H41t2NpsjLfsa_J7WqI70A3S2kEH80daOgkdLShoC9P8QAvD_BwE
https://eldercare.acl.gov/Public/Index.aspx
https://www.cancer.org/treatment/end-of-life-care/hospice-care/what-is-hospice-care.html